One Week Friends Hindi Sub | S01 Completed | Isshuukan Friends | Free Download
One Week Friends Hindi Sub | S01 Completed | Isshuukan Friends | Free Download Free Download or Watch Online, No Pop Up Ads, High Speed Secure Server, HD Quality Less File Size. Explore More Anime in Hindi Sub for Free on TeamVioZen.in.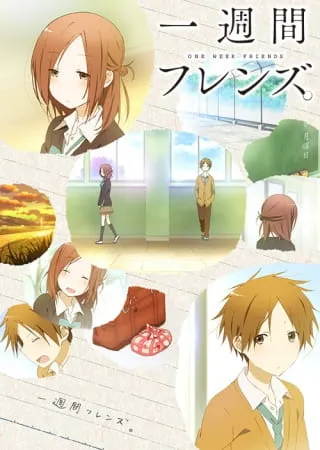 ---
---
One Week Friends is a manga series by Matcha Hazuki. It was serialized in Square Enix's Gangan Joker magazine between January 21, 2012 and January 22, 2015. It was first published as a one-shot manga in the magazine's September 2011 issue. The series has since been collected in seven tankōbon volumes.
Adaptations: One Week Friends (2017)
Genre: Romance novel
Volumes: 7 (List of volumes)
English publisher: NA Yen Press
Studio: Brain's Base
Episodes: 12 + 12 Special Episodes included in the DVD / Blu-ray of the series. (List of episodes)
---
One Week Friends Series Info
Name – One Week Friends, Isshuukan Friends
Episodes – 12
Length – 23 min. per ep.
Quality – 480p, 720p, 1080p
Studios – Brain's Base
Language – Japanese (Hindi Subtitles)
Size – 120MB
Age Rating – PG-13 – Teens 13 or older
MAL Rating – 7.5/10
Genre – Comedy, Slice of Life, School
---
---
Hindi Subbed by Team VioZen
Subbed by – Violet
Encoded by – ZenAyush
---
One Week Friends Hindi Sub Download Links
Use Video Players like Mx Player, VLC Media Player to play the videos.
Agr aap hamare sath Subbing Karna Chahte hai to Contact Us here.
flp for Google Drive Download Links and Telegram File.
zenpl is only for Online Stream.
Create a account to get highest download speed from Send.cm (scm) Server!!
---
Follow Our Instagram Account Else Join Our Telegram Group.
Thank You for Supporting Us Your Support and Love is Very Much Appreciated 💝💖
Give Some Donation, If You Want.
---
More Anime in Hindi Sub –
---
One Week Friends Plot
Sixteen-year-old Yuuki Hase finally finds the courage to speak to his crush and ask her if she wants to become friends. The object of his affection, Kaori Fujimiya, is a quiet and reserved girl who cuts herself off from everyone and does not spare him the same blunt rejection she gives everybody else.
Some time after, Yuuki finds her eating lunch on the roof where she secludes herself during break. He decides to start meeting with Kaori every day in the hopes of beginning to understand her better. The more time they spend together, the more she begins to open up to him. However, nearing the end of the week, she starts to push him away once more.
It is then revealed to him the reason for Kaori's cold front: at the end of the week, her memories of those close to her, excluding her family, are forgotten, as they are reset every Monday. The result of an accident in middle school, the once popular and kind Kaori is now unable to make friends in fear of hurting the people dear to her.
Determined to become more than just one week friends, Yuuki asks her the exact same question each Monday: "Would you like to be friends?" Because he knows that deep down, Kaori wishes for that more than anything.
---
One Week Friends Plot in Hindi
uchch vidyaalay ke chhaatr yaakee hase ne notis kiya ki unakee khoobasoorat sahapaathee kaoree phujimiya hamesha akelee hain aur prateet hota hai ki unaka koee dost nahin hai. usake kareeb aane aur behatar parichit hone ke baad, kaoree ne khulaasa kiya ki har somavaar ko vah apane doston kee saaree yaadadaasht kho detee hai. yah seekhane ke baavajood, y laiarningki har haphte usakee nae sire se dostee karane ka prayaas karatee hai.
---
One Week Friends Hindi Sub Screenshots
---
One Week Friends Trailer
---